Digital artists are increasing day by day, and what's more good of a device for them than the Best Chromebook With Stylus that allows them to draw on their screen with the help of a Stylus. These devices can serve as excellent devices for artists. Hence, the Chromebooks with a stylus can be a great device for an artist to pour their heart out.
The stylus has made the digital drawing experience like never before and works smoothly to provide ease and convenience to the users. Also, they are quite affordable, as well as have overcome all the obstacles and hurdles in the past few years.
Many drawing apps are also supported by their software, ChromeOS. Adobe apps are one of them. All these developments have led it to become a center of attraction for artists and designers and making these Chromebooks with a stylus is the new normal for them.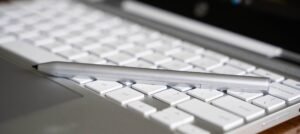 But, these days many excellent devices are present in the market for the artists to go for. These Chromebooks with styluses offer maximum control and sensitivity and are becoming the perfect tools for creativity for commercial artists, fine artists, art students, or beginners.
After a long and detailed study, we have concluded a list of Chromebooks with a stylus, so the users won't have to hassle much with finding their perfect mate. The list consists of the Chromebook laptops that have either a great stylus with them or are fully USI compatible. Regardless of what they have, they are going to provide complete control and freedom to the users to make beautiful art pieces.
This list can be helpful for users who are trying to find a 2-in-1 Chromebook for drawing purposes, so simply having a read will surely help you to get a perfect match.
Additionally, the stylus with these Chromebooks is not the only feature that makes them an ideal choice for artists. Nowadays almost all the android software can be run on the Chromebook computers like the apps on Google Play Store providing access to some great art programs to the artists like Autodesk Sketchbook, Ibis Paint, CorelDraw, Adobe Illustrator Draw, Adobe Photoshop Sketch, Artflow.
List of Best Chromebook With Stylus in 2023:-
Chromebooks have long been prized for their low costs, even though many models defy trends. The brand-new Acer Chromebook Spin 513-2H-K627 is one such example. It provides noteworthy upgrades over less-priced rivals, including a crisp screen and a lengthy battery life.
Design
Its simplistic, practical design is a key component. With a metal top and bottom chassis, it has a simple, but not unattractive, gunmetal look.
Acer's usage of various materials has resulted in a color variation that isn't intentional. With a more silver-charcoal appearance, its interior has a somewhat different tint. Most owners won't notice because the 2-in-1 seams do a decent job concealing this.
Display
Perhaps Acer Chromebook Spin 513's most distinguishing feature is its display quality. It has a 13.5-inch, 2,256 x 1,504 IPS touchscreen with approximately 200 pixels per inch pixel density.
Although its resolution is lower than a 4K display, it is still close enough that the viewer cannot tell the difference. Additionally, the text is crisp and clear, and there is no aliasing at the edges of small letters.
Speakers
Its built-in speakers could be better. Even at maximum volume, it doesn't provide enough volume.
There isn't enough power to induce distortion or harshness, and its audio quality is fine. However, I need to use external speakers or headphones with them for a better experience.
PROS
Extraordinary battery life.
Smooth Android gaming experience.
Robust body.
CONS
Support for USI pens and backlit keyboard.
Inefficient eMMC storage.
Poor audio quality.
Lenovo's IdeaPad Duet Chromebook achieves an ideal blend of tablet portability and Chromebook functionality while maintaining an absurdly low price—and somehow squeezing in a Lich King-sized battery that won't die.
Design
Its magnetized kickstand cover and keyboard seemed firmly attached to it. Still, I frequently unintentionally pulled the keyboard free or accidentally pushed back cover off while attempting to expand the kickstand.
Its failures are not that problematic, and putting the keyboard or cover back on can solve them, but they occur frequently enough for some people to become irritated by them.
Performance
On paper, Lenovo Duet Chromebook performs worse than its larger and more costly brethren, but no one is trying to play Metro: Exodus on a 2-in-1 Chromebook.
Duet excels at basic productivity tasks such as online browsing and movie streaming. You can't just cram in as many Chrome tabs as you like, but you can still run a few at once without grinding to a standstill.
Software
Its software selection on portable 2-in-1 laptops can be hit or miss, and even then, it's still more constrained than on a MacBook or a standard Windows laptop. Thankfully, Chromebooks have full access to Android app ecosystem, the biggest digital market in the world.
Compared to Surface Go 2, which must access less-popular Microsoft Store (which has a relatively limited selection), Duet wins on the software front.
PROS
Portable and light.
Lasting battery.
Affordable.
Enormous software library.
CONS
Touchpad and keyboard are crowded.
One port only.
Lacks the power to multitask effectively.
Although Asus Chromebook Detachable CM3 isn't the most powerful, you might be won over by its small size, extended battery life, adaptable 2-in-1 form factor, and chic appearance.
Design
I love the unexpectedness of fabric finishes on tech devices. Therefore I give dark gray fabric that covers Asus Chromebook Detachable CM3 two thumbs up. It initially reminded me of a worn-out old book, but after its cover was opened, Chrome OS and a keyboard appeared.
All of this is the responsibility of tablet's magnetic shell and keyboard. In addition to giving you impression that you are opening a hardbound book from the 18th century, that cloth exterior houses several practical design features. Its slate has a typical shiny black surface on its own.
Ports
There are two ports available on Asus Chromebook Detachable CM3: a 3.5mm headphone/mic combination connector and a USB 2.0 Type-C port. Given that this is a tablet, this isn't especially surprising. However, a USB Type-C port that was more recent would have been wonderful.
MediaTek processor prevents it from having a Thunderbolt 4 port, and most people won't miss extra bandwidth from this little device.
Display
The 10.5-inch, 1920 x 1200 pixel touchscreen display on Asus Chromebook Detachable CM3 surprised me because it delivers a much more colorful and crisper image than I had anticipated at this price level.
Its optimum aspect ratio for viewing content is 16:10. You may also angle it whichever way you like, thanks to the flexible support integrated into the cover.
PROS
Prolonged battery life.
Two-in-one detachable design.
Internal stylus.
CONS
Relative pricey.
Only two ports.
Inadequate processor.
Even if you have to make certain compromises, Galaxy Chromebook 2's QLED display, better battery life, and elegant design make it an attractive premium Chromebook.
Design
Fiesta Red or Mercury Gray are two colors that Galaxy Chromebook 2 is available in, but the fiery tones of former make this laptop stand out on a busy table.
Galaxy Chromebook 2 is marginally heavier and bigger than many rival Chromebooks and its predecessor, weighing in at about 2.7 pounds with a machined aluminum chassis that measures 12 x 8 x 0.6 inches.
Ports
Nowadays, USB-C ports are very popular, and Galaxy Chromebook 2 features two of them: one on each side, allowing you to plug in a charger on whichever side is most convenient for you. While its left side has a volume rocker, a headphone jack, and a microSD card reader, the right side is smoother throughout except for a power button.
Display
Some people may find the workmanlike 1920 x 1080 resolution and 16:9 display off-putting. However, the defining narrative of this laptop is that it has fewer luxury features than its predecessor, with a more reasonable battery life and pricing. The bezels' continued remarkable thinness, particularly at the top and sides, helps.
While using it, I found that Samsung Galaxy Chromebook 2's screen produced 118.4% of RGB color spectrum, which is significantly more than typical Chromebooks and just a little more than rivals like the M1 Macbook Air (114.3%) and Pixelbook Go (108%).
PROS
Stunning QLED display.
Extended battery life.
Excellent performance.
CONS
Traveling via key might be improved.
Unreliable touchscreen input.
No S-Pen is provided.
This 2-in-1 convertible laptop is no longer automatically considered a high-end piece of hardware. Lenovo IdeaPad Flex 5i's light weight of 3.31 pounds makes it simple to convert between touch-tablet and standard laptop modes swiftly.
Connectivity
Port choices are the same as they were for the 2021 model. This is one of the few affordable convertibles that support Thunderbolt 4 since some rival models, such as the Dell Inspiron 14 7420 2-in-1, don't.
Remember that the HDMI port is limited to 1.4a; therefore, any external 4K displays at 60 Hz should be connected by USB-C DP instead.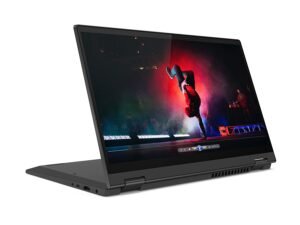 Display
Even though our more recent model uses a different underlying screen, most display characteristics are the same as on the 2021 IdeaPad Flex 5 14ALC05. In particular, color space and response times still need improvement or, at best, average, which is regrettably standard for low-cost 14-inch convertibles.
The display is approximately 50% brighter for enhanced outdoor visibility than the IdeaPad Flex 5 14 from the previous year. Yet, it still isn't bright enough to eliminate glare or be enjoyable for viewing in most outdoor settings.
Processor
To our surprise, the identical CPU in the Lenovo IdeaPad Flex 5i 14 is noticeably faster and can easily outperform most laptops powered by Core i7 U-series or earlier processors. Even after considering any performance restriction, raw multi-thread performance is a staggering 60 to 75 percent faster than on the Vaio FE14.
Yet, performance sustainability still has room for improvement. Scores dropped by 22% over time when CineBench R15 xT was performed repeatedly; this is a significantly greater decline than on the majority of other U-series-powered laptops.
PROS
Includes USB-C and HDMI ports.
Responsive and vivid touchscreen.
No active pen is supplied.
CONS
Reasonable performance.
Color coverage on display is inadequate.
Battery life is below average.
The C13 Yoga has amazing build quality and design. It's fun to type on the keyboard, and the stylus is a welcome addition. Unfortunately, it does not compensate for the short battery life and occasional performance issues.
Battery Life
Lenovo managed six hours and fifty minutes of our usual continuous streaming HD video test before giving up the ghost. That's four hours behind the Google Pixelbook Go and three and a half behind the HP Chromebook x360 14c.
I received about 43 percent charging in 30 minutes and 80 percent in an hour by plugging the gadget back in. It took one hour and forty minutes to recharge and reach 100%.
Screen
The 13.3-inch Full HD (1920 x 1080) IPS screen with multi-touch capabilities that the company chose for the C13 is a solid display for the most part.
Although Lenovo claims it has an anti-glare coating, the smooth, glossy nature of a touchscreen means that you'll still have to contend with reflections in bright sunlight, even with a maximum brightness of 300 nits.
Performance
Its 4GB of DDR4 RAM and a 128GB M.2 PCIe SSD are responsible for its amazing performance. However, it seems a little skimpy by today's standards; 8 GB is more appropriate for handsets in this price bracket.
The C13 Yoga was quick and responsive most of the time I used it. When I saw some significant slowdowns, to the point of freezing up and fans beginning to run, with only a few browser windows open, it caught me off, guard. Chromebooks don't have apps that push them that hard unless you're playing games because you won't be editing videos or producing high-res graphics.
PROS
Excellent construction.
Amazing keyboard.
Stylus Integrated.
CONS
Irregular performance.
Shortened battery life.
Ordinary cameras.
The next device falling on our list is the Acer Chromebook Spin 13. This is another highly premium Chromebook just like the above-mentioned Google Pixelbook.
This gadget comes at a quite affordable price considering the specifications it possesses like premium-level performance, material quality, fit, and finish. A creative and innovative interaction is also provided by the device to its users. Along with the stunningly beautiful display screen, this has become a complete package of creativity and innovation.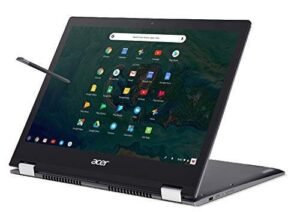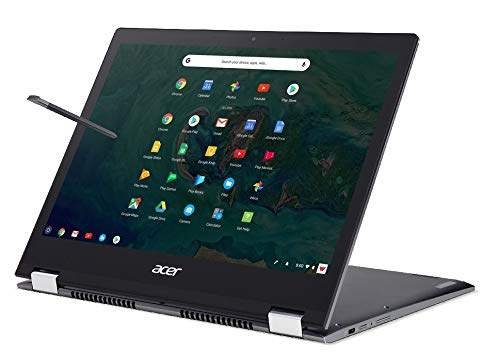 The Acer Chromebook spin 13 provides features like the Google Pixelbook, that's why this is also loved equally by the users and gets incredibly great responses as well as reviews and ratings from loyal customers.
The Chromebook comes with an awesome Wacom digital stylus. And, the device provides complete control of the pen-to-screen interface and creativity.  Additionally, the display quality offers the user to do absolutely anything and everything with utmost accuracy, subtlety, and confidence.
It can be an ideal computer for displaying finished artwork. Therefore it serves as a perfect portable studio as well as an ideal electronic portfolio.
This possesses an awesome convertible design that gives full tablet-like productivity along with the stand-up display mode as well as normal Laptop functioning to its users.
However, the device is somewhat expensive, still can be the best choice for the users who want a high-end Chromebook with a stylus at the best price. This is also a strong contender which provides the best of the best devices for the artists.
Now, coming to the next product, the following slot has been fulfilled by the Acer Spin 11 convertible Chromebook Laptop.
It is a decent device that allows the keyboard to be folded away so that the user can use it as a tablet too.
The Acer Spin 11 Convertible laptop offers the art to be directly created on the screen with the help of a Stylus by the user. This device can also be used as a regular laptop or as a displaying device with the help of display (tent) mode to showcase all the artworks or for movies and videos.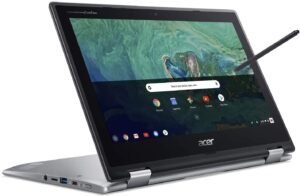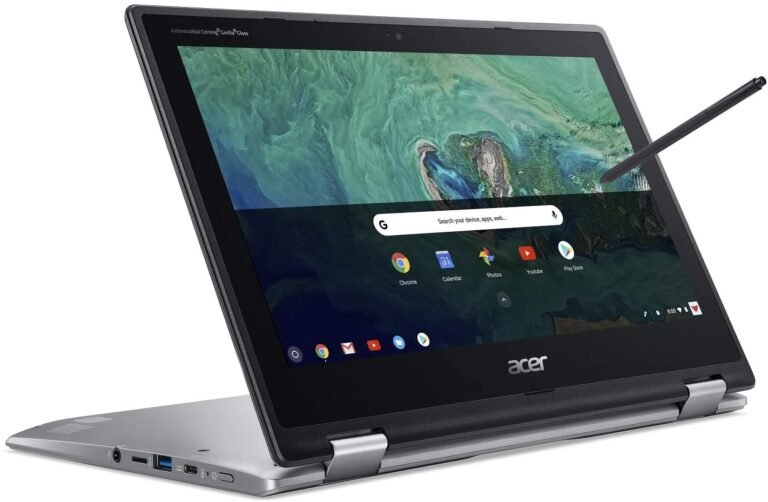 It has a unique and interesting design and can be considered useful too, but this ain't a surprise for the users as this is normally expected from a convertible laptop. Hence, most of the devices on our list offer the same features to the artists.
However, as for the surprising fact, even though of being an economical device, it is a top-quality machine that is made of superb quality materials and possesses a strong as well as an appealing look to device. With the superfast processor and amazing screen, this device becomes the most popular among Chromebooks. An additional amazing feature is that it comes with a top-level artist stylus – the Wacom Pen.
This is a useful and awesomely designed computer that offers a transparent and intuitive interface. The user can experience an easy and undistracted creative space of their own. It has a great and predictable pen-screen interaction. Its flow is also nice and controllable. That's why it can be considered that this device is solely made by keeping artists and their artworks in mind.
Nowadays all the devices are getting better in every way possible. Almost every android app can be run on the recently launched Chromebooks for providing greater utility features, still, they are proven to be quite affordable and great computers for the users.
This Acer Spin 11 Chromebook can be the best laptop that perfectly fits the budget of the users. It is an amazing laptop for drawing, as this 2-in-1 Chromebook with a Stylus offers smooth and flawless art pieces to artists in the 21st century.
Now following the list, the upcoming device is the Lenovo Duet 2-in-1 convertible Chromebook. They are the actual definition of Chromebooks and explains their popularity as well as the enjoyment they provide to the users. It is a perfect example of a computer that is available at a very low price.
The Lenovo Duet 2-in-1 Chromebook offers a touchscreen display of 10.1 inches with awesomely high definition graphics which gives a great look as well as displays colors containing brilliant contrast, brightness, and fidelity. All these features in combination provide real fun in paintings and drawings to the artists. With a digital pen, the surface of the screen emits an awesome feel along with good feedback and control, a natural feel and flow for the users.
A digital stylus is not provided with this device to the buyers as it is a completely USI-compatible product. So, a Penoval USI Stylus would perform well with it as it provides awesome control and great benefits to the users.
Although, the features of Chromebooks can not be compared to the features of Windows. These devices don't provide much onboard storage to the users as they are cloud-based computers. Its RAM is also not why it doesn't function greatly with Chrome OS and Android software.
Therefore, the Lenovo Flex 3 is offered with this device that gives the power to run it fast, makes it reliable, starting and saving becomes super quick, and the user does not have to face any lags or delays while performing on it.
This flex 3 is great and the user witnesses a focused creative experience with it. It also permits the user to work efficiently without being distracted, which makes it the most important tool for any artist.
It is an awesome Chromebook that falls within anyone's budget containing a strong feeling, a superb design, and a stunning screen. It is also easily portable and can be carried anywhere. These features collectively make it an idealistic tablet for the users like designers, art students, and artists.
However, if the device seems a little expensive, the user does not need to make any compromises. This is capable of performing almost every function needed by the user and can be handled easily too. It is one of the best inexpensive Chromebooks with a stylus for artists.
Frequently Asked Questions:-
Can you doodle on every Chromebook?
Most Chromebooks come with a touch screen and a stylus or touchpad that supports drawing, making it possible to doodle on them. However, the quality of the drawing experience may vary depending on the specific Chromebook model, the type of stylus or touchpad you're using, and the software or apps you use for drawing.
How long does a Chromebook's battery last?
The battery life of a Chromebook can vary depending on the model, the size of the battery, and the usage pattern. On average, most Chromebooks have a battery life of 8–12 hours, but some models can last up to 14–16 hours or more.
What are the benefits of using a Chromebook?
A Chromebook can be used for many activities, including playing games and accessing the internet to browse the web and stream movies. Either work directly from the Chrome web browser or download Android apps from the Google Play Store.
How can students benefit from Chromebooks?
If you need a laptop for back to school or any other time of the year, a Chromebook is a great option. The simplified Chrome OS makes it simple to access well-known programs like Google Documents, Google Drive, and email, allowing students to stay focused on their work and in touch with their instructors and peers.
What steps should I take to highlight text on a Chromebook?
To highlight text on a Chromebook, drag the cursor over the text. To copy or cut, right-click and select the option. To remove, drag again or right-click and choose "Remove highlight."
Are Chromebooks superior to Windows?
Chromebooks and Windows have their advantages, which are "superior" depending on personal needs. Chromebooks are generally less expensive, secure, and easy to use, while Windows offers more customization and app compatibility.
Are Windows or Mac laptops compatible with a Chromebook?
For anyone with standard computing requirements, Chromebooks are a solid option. A Chromebook can serve your needs just fine, for instance, if you spend most of your online time checking email, perusing the web, using social media, and watching movies.
What are the drawbacks of using a Chromebook?
Some drawbacks of using a Chromebook include limited offline capabilities, fewer software options, lower storage capacity, and limited processing power for advanced tasks. Additionally, Chromebooks usually don't provide the graphics capability you need for taxing activities or, once again, the choice to install Windows or Mac apps and games.
Conclusion
Only a few years back, no one would have opted for a Chromebook with a stylus that comes along with the Chrome OS as they were new back then so they didn't have a sturdy platform to rely on.
Also, it wasn't believed that they were good for drawing, painting, or other creative works. Everyone went for Windows or Apple OS as they were already well known and established then.
But now, there is so much to offer and several factors are also coming into the spotlight, including:
USI (universal stylus initiative)
Increased compatibility with plug-in artist tablets
Compatibility with Android software
Google's push to make professional art software (Adobe, Corel, etc) available to Chrome OS
All these specifications of the Chromebook successfully helped it in gaining the fame they have right now. Along with the features like price-to-performance ratio, ease of use, built-in malware and fuss-free updates, lightweight and overall cool and useful design it has become the center of attraction for the users these days.
So the above-mentioned Chromebook with a stylus is a go for any of the artists but especially for beginners and art students because mostly they have tight budget issues. All work great for almost every tools for artists.
However, when we look at the Google Pixelbook which is the top-tier Chromebook, it is very easy to handle, therefore, can be used by anyone despite their level for anything they want to do on it. All the listed Chromebooks with Stylus have been providing great care and advantages to all the artists.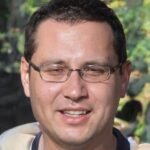 Ben Scott is a prominent technology journalist and reviewer, specializing in tablet devices. He is known for his comprehensive and unbiased reviews of tablets from various manufacturers.
With a deep understanding of tablet technology, including hardware components, operating systems, and software applications, Scott provides clear and informative reviews accessible to readers of all levels of technical expertise.
His attention to detail and in-depth analysis have earned him a loyal following of readers.