Digital artists are increasing day by day, and what's more good of a device for them than the Best Chromebook With Stylus that allows them to draw on their screen with the help of a Stylus. These devices can serve as excellent devices for artists. Hence, the Chromebooks with a stylus can be a great device for an artist to pour their heart out.
The stylus has made the digital drawing experience like never before and works smoothly to provide ease and convenience to the users. Also, they are quite affordable, as well as have overcome all the obstacles and hurdles in the past few years.
Many drawing apps are also supported by their software, ChromeOS. Adobe apps are one of them. All these developments have led it to become a center of attraction for artists and designers and making these Chromebooks with a stylus is the new normal for them.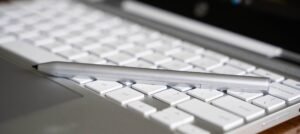 But, these days many excellent devices are present in the market for the artists to go for. These Chromebooks with styluses offer maximum control and sensitivity and are becoming the perfect tools for creativity for commercial artists, fine artists, art students, or beginners.
After a long and detailed study, we have concluded a list of Chromebooks with a stylus, so the users won't have to hassle much with finding their perfect mate. The list consists of the Chromebook laptops that have either a great stylus with them or are fully USI compatible. Regardless of what they have, they are going to provide complete control and freedom to the users to make beautiful art pieces.
This list can be helpful for users who are trying to find a 2-in-1 Chromebook for drawing purposes, so simply having a read will surely help you to get a perfect match.
Additionally, the stylus with these Chromebooks is not the only feature that makes them an ideal choice for artists. Nowadays almost all the android software can be run on the Chromebook computers like the apps on Google Play Store providing access to some great art programs to the artists like Autodesk Sketchbook, Ibis Paint, CorelDraw, Adobe Illustrator Draw, Adobe Photoshop Sketch, Artflow.
List of Best Chromebook With Stylus in 2023:-
1- Google Pixelbook 2-in-1 Chromebook
Google Pixelbook is the first device mentioned in our list as well as probably the most expensive Chromebook possessing ChromeOS in the market these days. It can be considered as the finest and best Chromebook available in the market. In the 21st century, this device can be called the best Chromebook for artists.
This device possesses a huge onboard memory that is quite different from other devices. Its RAM and SSD storage is unmatchable and offers the user a great choice to save their work regardless of the size, complexity, and quality of the artwork, they can be saved easily on the device.
The Google Pixelbook provides a phenomenal screen that possesses awesome resolution, brightness, and contrast. Art of any level can be supported due to these features. The resultant art comes excellent, that the user can show off, with awesome impact.
A natural, predictable, and flowing screen-pen interface, which also allows high precision and complete expressive control are offered by the device to the users. However, its Google Pixelbook Pen needs to be bought separately.
The device feels like an amazing product, which is light as well as slim containing a solid, durable construction, and an explicit finish.
Undoubtedly, In the 21st century, this Google Pixelbook is proved to be the finest Chromebook for artists. In almost every way possible it offers support to the commercial or fine artists despite their level for many years.
2- Acer Chromebook spin 13
The next device falling on our list is the Acer Chromebook Spin 13. This is another highly premium Chromebook just like the above-mentioned Google Pixelbook.
This gadget comes at a quite affordable price considering the specifications it possesses like premium-level performance, material quality, fit, and finish. A creative and innovative interaction is also provided by the device to its users. Along with the stunningly beautiful display screen, this has become a complete package of creativity and innovation.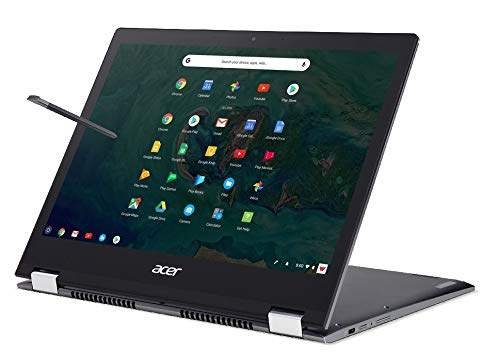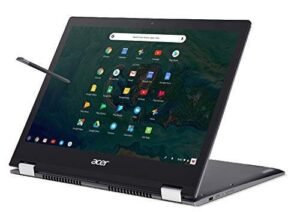 The Acer Chromebook spin 13 provides features like the Google Pixelbook, that's why this is also loved equally by the users and gets incredibly great responses as well as reviews and ratings from loyal customers.
The Chromebook comes with an awesome Wacom digital stylus. And, the device provides complete control of the pen-to-screen interface and creativity.  Additionally, the display quality offers the user to do absolutely anything and everything with utmost accuracy, subtlety, and confidence.
It can be an ideal computer for displaying finished artwork. Therefore it serves as a perfect portable studio as well as an ideal electronic portfolio.
This possesses an awesome convertible design that gives full tablet-like productivity along with the stand-up display mode as well as normal Laptop functioning to its users.
However, the device is somewhat expensive, still can be the best choice for the users who want a high-end Chromebook with a stylus at the best price. This is also a strong contender which provides the best of the best devices for the artists.
3- HP x360 12b 2-in-1 Chromebook
The next spot has been taken by the awesome 2-in-1 HP Touchscreen Chromebooks ×360 having a screen size of 12-inches.
As we all are aware of the fact that HP products provide a very great performance/cost ratio at reasonable prices, this product can be expected as the best Chromebook for the artists.
This Chromebook of HP is available at a comparatively affordable (Medium-priced) amount that is just next to impossible when the device has these many specs to offer.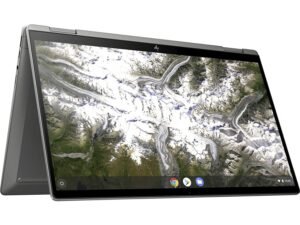 The model serves as an amazing artistic tool possessing a superb display touchscreen. This screen works flawlessly with a USI stylus and offers great creative control and expressions. It also provides an impactful and clear view of the work to the artists, so they can actualize what they are up to.
HP Chromebook's screen is very much capable of completing minutely detailed and descriptive work easily on the ×360 screen. Truly speaking, due to its pen-to-screen interface as well as quality along with the accuracy of the display, it makes the work immensely easier than it is, for the users.
However, a Stylus is not provided with this device, as it is fully USI compatible. It implies that a good USI stylus will be given to the user that can offer a full 4,096 levels of pressure sensitivity and tilt recognition. Overall the user will get an amazing experience, that's why this Penoval USI Stylus is highly appreciated.
In the 21st century, this Chromebook can be considered the best mid-priced device for an artist. It is available in two variants based on the screen display sizes i.e a 12-inch display and a 14-inch display. However, with the difference in their display sizes, the user can opt for the device of their choice. As one is only a few inches and dollars more than the other one.
Even so, simply because of this fact, some users find the smaller one easily portable as well as can be carried anywhere by keeping it in the bag. Although, both variants provide amazing results to the users.
As already stated above, this tablet would be a great fit for Artists, as it possesses the same features, specs, and overall performance as its expensive variant.
Due to its awesome convertible design, the Chromebook permits the full tablet mode as well as the display and laptop configurations and also provides a superb screen to the user which is both bright and sharp. Lastly, along with the premium level pen interaction and USI compatibility, this HP x360 Chromebook 2-in-1 becomes the perfect match for the artists in 2023.
4- Acer Spin 11 Convertible laptop
Now, coming to the next product, the following slot has been fulfilled by the Acer Spin 11 convertible Chromebook Laptop.
It is a decent device that allows the keyboard to be folded away so that the user can use it as a tablet too.
The Acer Spin 11 Convertible laptop offers the art to be directly created on the screen with the help of a Stylus by the user. This device can also be used as a regular laptop or as a displaying device with the help of display (tent) mode to showcase all the artworks or for movies and videos.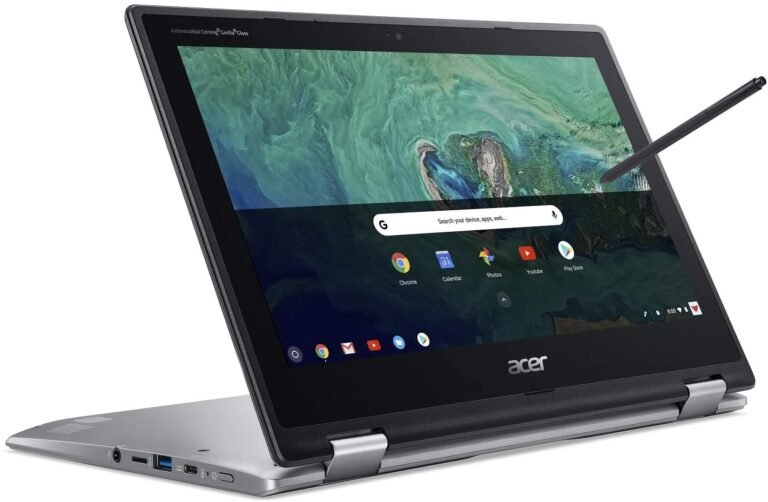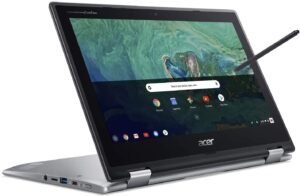 It has a unique and interesting design and can be considered useful too, but this ain't a surprise for the users as this is normally expected from a convertible laptop. Hence, most of the devices on our list offer the same features to the artists.
However, as for the surprising fact, even though of being an economical device, it is a top-quality machine that is made of superb quality materials and possesses a strong as well as an appealing look to device. With the superfast processor and amazing screen, this device becomes the most popular among Chromebooks. An additional amazing feature is that it comes with a top-level artist stylus – the Wacom Pen.
This is a useful and awesomely designed computer that offers a transparent and intuitive interface. The user can experience an easy and undistracted creative space of their own. It has a great and predictable pen-screen interaction. Its flow is also nice and controllable. That's why it can be considered that this device is solely made by keeping artists and their artworks in mind.
Technically, the user can find a device with better specifications with some extra money, but getting a computer that will offer a better creative experience or a device that will provide the feeling of being durable, reliable as well as inspiring a product that can enhance the confidence level of the user is not easy.
Nowadays all the devices are getting better in every way possible. Almost every android app can be run on the recently launched Chromebooks for providing greater utility features, still, they are proven to be quite affordable and great computers for the users.
This Acer Spin 11 Chromebook can be the best laptop that perfectly fits the budget of the users. It is an amazing laptop for drawing, as this 2-in-1 Chromebook with a Stylus offers smooth and flawless art pieces to artists in the 21st century.
5- Lenovo Duet 2-in-1 Chromebook
Now following the list, the upcoming device is the Lenovo Duet 2-in-1 convertible Chromebook. They are the actual definition of Chromebooks and explains their popularity as well as the enjoyment they provide to the users. It is a perfect example of a computer that is available at a very low price.
The Lenovo Duet 2-in-1 Chromebook offers a touchscreen display of 10.1 inches with awesomely high definition graphics which gives a great look as well as displays colors containing brilliant contrast, brightness, and fidelity. All these features in combination provide real fun in paintings and drawings to the artists. With a digital pen, the surface of the screen emits an awesome feel along with good feedback and control, a natural feel and flow for the users.
A digital stylus is not provided with this device to the buyers as it is a completely USI-compatible product. So, a Penoval USI Stylus would perform well with it as it provides awesome control and great benefits to the users.
Although, the features of Chromebooks can not be compared to the features of Windows. These devices don't provide much onboard storage to the users as they are cloud-based computers. Its RAM is also not why it doesn't function greatly with Chrome OS and Android software.
Therefore, the Lenovo Flex 3 is offered with this device that gives the power to run it fast, makes it reliable, starting and saving becomes super quick, and the user does not have to face any lags or delays while performing on it.
This flex 3 is great and the user witnesses a focused creative experience with it. It also permits the user to work efficiently without being distracted, which makes it the most important tool for any artist.
It is an awesome Chromebook that falls within anyone's budget containing a strong feeling, a superb design, and a stunning screen. It is also easily portable and can be carried anywhere. These features collectively make it an idealistic tablet for the users like designers, art students, and artists.
However, if the device seems a little expensive, the user does not need to make any compromises. This is capable of performing almost every function needed by the user and can be handled easily too. It is one of the best inexpensive Chromebooks with a stylus for artists.
6- Lenovo Chromebook C340
Talking about our next device, it is a Lenovo laptop and a great choice for the artists. Lenovo Chromebook C340 is our next product. It is the most amazing option. It offers awesome versatility to the users, as it can be used as both a laptop or a tablet. It allows the user to sketch and draw freely as well as comfortably.
The Lenovo Chromebook C340 has an HD touchscreen that is perfect for a better drawing experience. However, the Stylus to draw on it needs to be brought separately because this device doesn't offer one.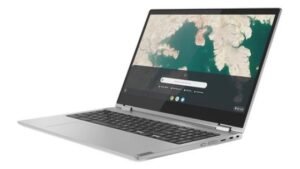 Although this device doesn't have an impressive set as the other models, it is still strong and reliable. A RAM of 4 GB is provided with the model, which is sufficient for the completion of the various tasks. Also, the user can use it for as long as 10 hours without getting worried about its power off.
It is a great Chromebook that fits the budget of the users. Also, it has a strong build, amazing design, a beautiful screen, and an efficient stylus which is both lightweight and easier to carry out. This is the perfect device for art students and beginners.
This is available in the market at a greatly affordable price that is sure to grab the attention of amateur artists and art students. So, don't miss the chance and have this device in your possession and you'll be all set to sketch and draw for years.
7- ASUS Chromebook Flip C434 – Best Chromebook With Stylus
The next amazing device we have on the list is the ASUS Chromebook Flip C434 2-In-1 Laptop. It offers an awesome flip's super-large touchscreen of 14 Inches which makes sure to get all the attention a device needs.
Ultra-slim bezels and a 1920×1080 pixels display have been offered by the device. Hence, it becomes an amazing Chromebook for aspiring and professional artists.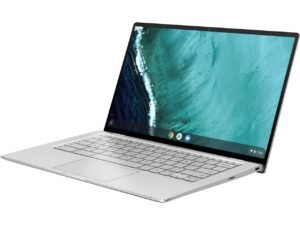 Desirable specifications are provided by this Asus 2 in 1 touchscreen 2 in 1 Chromebook / laptop. A RAM of 8 GB with an Intel Core M3 processor is the reason for its smooth functioning. Its storage of 64 GB gives a lot of space to the user for saving all the artworks as well as securing them.
It has an attractive and elegant all-metal design Which makes it awesomely attractive and hardwearing. On top of it, its lightweight body makes it perfectly suitable for commuting and travel. It allows the user to perform creative functions anywhere.
8- HP Touchscreen Chromebook
The next device on the list is the HP Touchscreen Chromebook. It possesses a huge responsive touchscreen of 14 inches that permits the users to make highly detailed sketches or drawings.
Regardless of the size of this device, it possesses a lightweight and compact body. That makes it easily portable so the users can carry it in the class with them or anywhere they want without feeling an additional burden.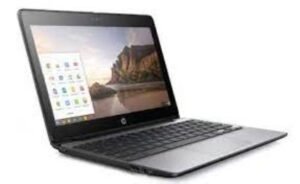 The HP Touchscreen Chromebook comes with a long-lasting battery of up to 10 hours. Therefore, it is quite suitable for long working designs or works as the user does not need to worry about the loss of power. Although it doesn't offer vast storage, it is already expected from a Chromebook. So the files need to be stored on the cloud or external hard drives.
It belongs to the category of devices that comes at very low prices in the market. So if you are facing a little shortage of cash, this Chromebook can be your best option. Additionally, it also provides built-in antivirus and Google apps to the users.
9- Dell Inspiron 2-in-1 5000
The last but not the least device that has been included in the list is the Dell Inspiron 2-in-1. It is a top-range Chromebook, offered by Dell which lies in the budget.
Amazing specifications have been provided by this device. It offers a RAM of 8 GB and a storage of 256 SSD. Its 8th Gen Intel Core i3 processor is capable of handling anything if tested by the users.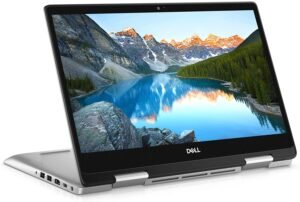 Surprisingly, its screen offers hi-res that provide ecstatic visuals. Hence, the resultant artwork is going to be displayed in all its glory. It provides 4 different modes so that the user can opt for their most comfortable mode to work on i.e., a tablet, a laptop, a tent, or a media. That's why it can be considered as not only powerful but an adaptable device too.
Conclusion
Only a few years back, no one would have opted for a Chromebook with a stylus that comes along with the Chrome OS as they were new back then so they didn't have a sturdy platform to rely on.
Also, it wasn't believed that they were good for drawing, painting, or other creative works. Everyone went for Windows or Apple OS as they were already well known and established then.
But now, there is so much to offer and several factors are also coming into the spotlight, including:
USI (universal stylus initiative)
Increased compatibility with plug-in artist tablets
Compatibility with Android software
Google's push to make professional art software (Adobe, Corel, etc) available to Chrome OS
All these specifications of the Chromebook successfully helped it in gaining the fame they have right now. Along with the features like price-to-performance ratio, ease of use, built-in malware and fuss-free updates, lightweight and overall cool and useful design it has become the center of attraction for the users these days.
So the above-mentioned Chromebook with a stylus is a go for any of the artists but especially for beginners and art students because mostly they have tight budget issues.
However, when we look at the Google Pixelbook which is the top-tier Chromebook, it is very easy to handle, therefore, can be used by anyone despite their level for anything they want to do on it. All the listed Chromebooks with Stylus have been providing great care and advantages to all the artists.