This tablet is a 2 in 1 portable notebook since it is specially created for college students, a businessman who needs to commute a lot on an everyday basis. This tablet comes with a keyboard so that you can easily type anything. It runs on the Intel Atom quad-core x5 – z8350 processor. The storage runs up to 64 GB with 4GB RAM so that you store all your important work files. The display is 10.1 inches long with 1280X 800 resolution for better viewing experience and clarity.
Asus Transformer Chi 10.1- Overview
Starting at just $229, the lowest configuration gets you equipped with Intel Atom Z3775 CPU, 2 GB of DDR3 RAM, 32 GB of flash memory, and the screen is better than many other comparable tablets: a 1920×1200 glossy IPS touch panel featuring Corning Glass covering.
There's even both front-facing and rear-facing cameras (2 MP and 5 MP respectively), as well as a metal case that feels more like it belongs alongside a Dell Venue than on a $400 machine. This makes a highly affordable market for the people of the middle range and also provides a sufficient in that price range.
Key Specifications-
Screen- 10,1in, 1920×1200 pixel IPS screen
Processor- Intel Atom processor
RAM- 2GB
Storage- 32/64 GB
Frame- Detachable Bluetooth keyboard and trackpad dock
Battery – 10 Hr
Camera- 5MP and 2MP
Performance
The older Transformer scored 2330 points in PCMark 7 with its 1.33 GHz Atom chip and the same memory quota. The new Chi version of the Transformer showed a 17% increase, to 2741 points. The Work module of PCMark 8 has a large drop in the score when moving from Conventional to Accelerated mode (1550 and 1236 points respectively) which means a weak graphic processor, but no need to worry a lot about it.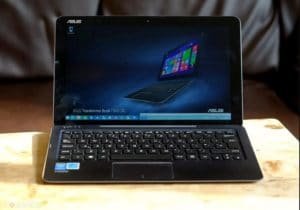 The processor used in it is good according to the price range so if you are not a heavy user, just a commercial worker or a student it can fit in your pocket and also low maintenance. It also supports the external keyboard which is good and helps in fast typing.
Build and Design
The design is simple and also supports each user type as a regular clamshell folding laptop, albeit a very small one with a 10.1-inch screen. Loaded with windows which is great for the windows lover. When docked you get the benefit of the real laptop as well. The viewing angle is good and can adjust to any angle according to the user. Flip this device and you oe=w it turns in to an entertainment device used for watching movies and games.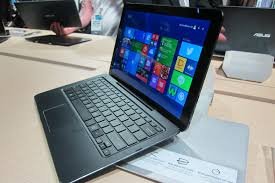 In previous versions, the keyboard is only connected with Bluetooth. Asus has set aggressive power management here which turns off the keyboard after just a few minutes left idle. Some time connecting a dock of keyboard and mouse may give some connecting issues but only sometimes not always.
Display
The display is not so well as expected but not too bad. The convertible features can make it a low profile, super-sharp display, in part due to its high pixel density. Whacked up to full brightness it's more than enough for indoor use, but when combined with the glossy IPS display it's too black to see in sunlight. Viewing angles, on the other hand, are superb – living up to Asus's 180-degree claims.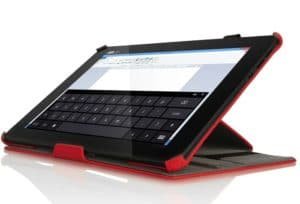 Filtering some of the main aspects of Asus Transformer Chi 10.1:-
Pros
The slim metal design 

looks and feels premium

Better connectivity with keyboard

Connectivity is better

Small and portable
Cons
Laggy

Windows still isn't a great tablet OS

Screen issue

Battery life

The 2-in-1 design doesn't work sometimes
Final Talk
At last, we would like to finally suggest that you can buy it if your range is limited and fixed. Although this is very cool and its features of convertibility can attract the user to buy it. Fore more upgraded version of convertible tablets fou can visit college tablets and many other categories.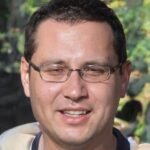 Ben Scott is a prominent technology journalist and reviewer, specializing in tablet devices. He is known for his comprehensive and unbiased reviews of tablets from various manufacturers.
With a deep understanding of tablet technology, including hardware components, operating systems, and software applications, Scott provides clear and informative reviews accessible to readers of all levels of technical expertise.
His attention to detail and in-depth analysis have earned him a loyal following of readers.