The iPad Air 10.5 is very usual for everyone who has an iPad. The low weight capability is one of the most important features which everyone likes in it. The design is still similar to before, only the processor and other features are just upgraded. The displays are a major improvement over the basic iPad.
The screen is protected to the front glass, which eliminates the air gap you'll find only in a few tablets. This makes the pixels feel that much is closer to your fingertip. The pencil used in it is very cool but it's old and has no upgrade since many versions. The screen quality is a very good and glossy finish with curved bezels.
Apple iPad Air 10.5- Overview
For overview the processor Apple's A12 Bionic chip and sufficient RAM, integrated with lots of other features and every previous feature. The camera is a fone for video calls and video recording and photos. It doesn't support face ID, a portrait that saves for the Pro series, and some new versions of tablets but it will exceed its limit of $500. But enough features as a tablet.
The $499 iPad Air is for either creative apps or basic laptop use. Apple's keyboard case is more reliable than Bluetooth, and the more powerful processor gives real benefits in apps like iMovie and Photoshop Express.
Key Features:-
Operating System- Apple iPad OS
Dimension- 9.8 x 6.8 x 0.24 inches
Weight- 1 lbs
Screen- 10.5″
CPU- Apple A12 Bionic
Storage- 64/128GB
Battery- 6-7 Hr
Processor and Performance
Features are quite similar to the Apple iPad Mini latest versions and iPhones do. Benchmarks just above 4776 on Geekbench single-core and 11500 on multicore. The graphics are also much better than the same device of the same range.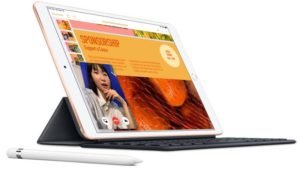 Those results aren't quite as fast as the current iPad Pro models, which use an A12X processor with boosted graphics, but they're considerably faster than the current $329 iPad with its A10 processor, which got 3,512 single-core and 5,934 multi-core on Geekbench. As we know iPad Mini is small and easy to portan=ble with the same specification have but sometimes the use of 10.5″ is far better than using it on 7.9″. when using the keyboard it is totally converted into a laptop for multipurpose use.
Camera and Multimedia
Like other Apple devices, this also has a better camera and other multimedia functions and is also one of the tablets which are good for multitasking. The iPad Air has an 8-megapixel rear camera and a 7-megapixel front camera, both of which record 1080p video at 30 frames per second. Sometimes in low light, the quality may degrade but that doesn't mean the quality is worst in some cases better than many other devices.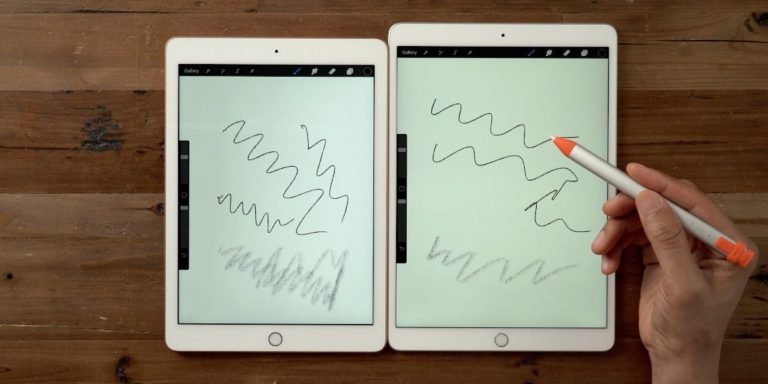 Apple iPad Air 10.5: Gaming
The A12 chip also just has more runway in front of it, something to keep in mind because many people hold onto tablets for many years. In three years or so, if history is a guide, new games will drag on an A10 processor but not on an A12.
Battery Life
Battery capacity is good and enough for day-to-day or general use. Wi-Fi connectivity and every connectivity is better. Battery life may degrade when playing games or any other heavy work. That translates to about eleven hours of use at low brightness.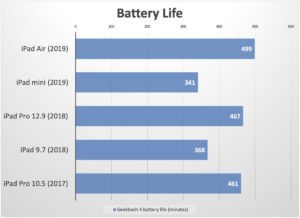 After all other discussions, we suggest a few pros and cons of Microsoft Surface Pro 4:-
PROS
Widescreen.
Keyboard.
Battery Life.
CONS
Old pencil.
Design and camera.
OUR VERDICT
The third in the row but not the last. This Apple iPad Air is 2019 model but it doesn't mean its value is decreased or its performance. The battery is nice and keyboard is just awesome for the 2-in-1 category. Either use it as a tablet or as a laptop, its screen size supports too. The pencil is a quite old generation but still better and advanced than 9.7″ previous versions.
---
Read the latest reviews of some popular and similar devices:-